What do you do with 600 LEDs?
Delivery, 600 blue LEDs and a bunch of components. So if I'm going to work with these I need to test them first – replacing a single LED in the middle of the matrix is going to be murder so better make sure they are all good to start with.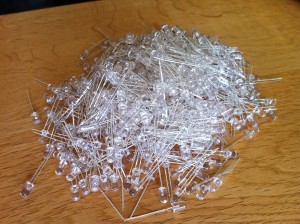 Grab a resistor, power supply and a glass of wine. Be back later.
What matrix – All will become clear in the following posts 🙂
Tags: Electronics, LED
Tuesday, July 5th, 2011 at 6:22 pm •
Electronics
•
RSS 2.0
feed Both comments and pings are currently closed.